FANUC's new AI functions utilizing machine learning and deep learning
Tokyo, Japan, April 16, 2018 — FANUC CORPORATION (hereinafter, FANUC) in collaboration with Preferred Networks, Inc. (hereinafter, PFN) has developed new AI functions that apply machine learning or deep learning to its FA, ROBOT, and ROBO-MACHINE products.
FA:AI Servo Tuning (Machine Learning)
FANUC has developed AI Feed Forward as the first to come out of its development efforts in a group of AI Servo Tuning functions that realize high-speed, high-precision, high-quality machining. It utilizes machine learning to easily tune parameters for controlling servo motors in a sophisticated manner. AI Feed Forward is a feed-forward controller based on a high-dimensional model that represents mechanical characteristics more accurately. This model has too many parameters to tune manually as has been done up to now. Therefore, machine learning is used in the process to determine parameters for this advanced feed-forward control. AI Feed Forward offers high-quality machining as it reduces mechanical vibration caused when servo motors accelerate or decelerate.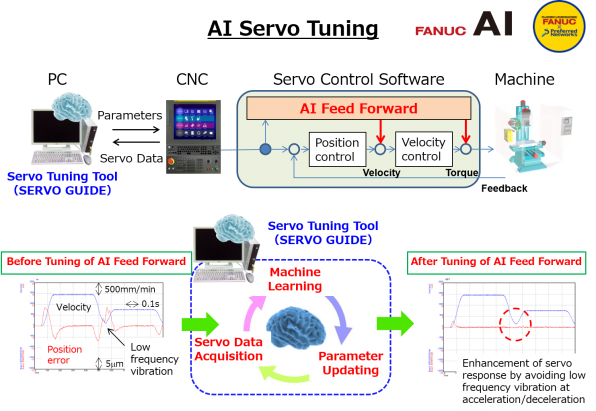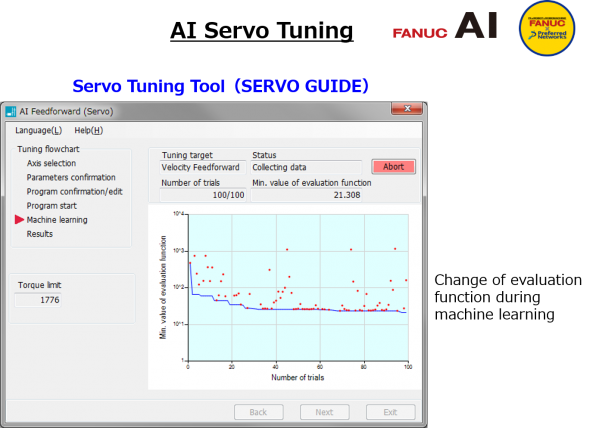 Shipment estimated to start in April 2018
ROBOT:AI Bin Picking (Deep Learning/FIELD System Application)
 FANUC released AI Bin Picking FIELD application with 3D object scoring function to identify suitable picking order with higher success rate. This Deep Learning based application enables FANUC Robot Bin Picking system to learn the picking order automatically, and reduces robot user's burden of the lengthy manual setup process. Also, this function makes FANUC Robot to pick up the object with higher success rate, which had only been possible with detail parameter tuning by experienced operators. Picking success rate can be even improved by creating Deep Learning trained model for each workpiece type.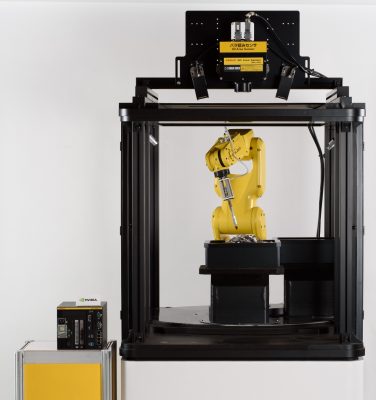 Left: FIELD BASE Pro (with NVIDIA GPU)
Right: Picking robot system with sensor (Demo unit)
Shipment started in April 2018
ROBOMACHINE:AI Thermal Displacement Compensation (Machine Learning)
FANUC has developed and begun selling an AI thermal displacement compensation function for FANUC's ROBODRILL series, following the release of the same AI function for its wire-cut electric discharge machine ROBOCUT in November last year. The second AI function is for ROBOMACHINE and utilizes machine-learning technology to predict and compensate for the thermal displacement caused by temperature fluctuations, which are detected by the thermal sensors measuring ambient temperatures as well as ROBODRILL's temperature rise while in motion. Machining accuracy has improved by about 40%, compared with an existing function. Furthermore, the optimal placement of the thermal sensors and the effective use of thermal data enable it to continue to perform optimal compensation without interrupting machining work even if there is sensor malfunction.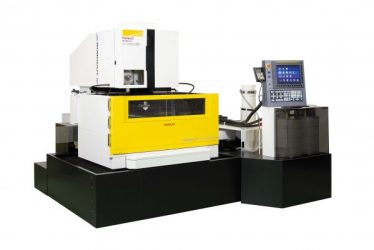 ROBOCUT with the first AI thermal displacement compensation function (released on November 2017)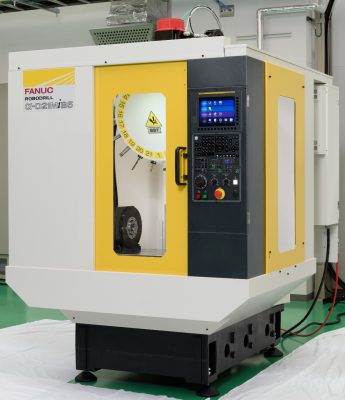 ROBODRILL with the second AI thermal displacement compensation function
Shipment started in March 2018 (already released)
Comment from Toru Nishikawa,
President & CEO of Preferred Networks
"We have been working with FANUC on the AI Bin Picking project since the commencement of our R&D alliance in 2015. I feel it is of great significance that we announce its release today as the first product to apply deep learning to robots. We will continue to bring a new value to manufacturing floors by stepping up our efforts to introduce to the market smart robots and machine tools that utilize deep learning in a broader field."