PFN and ENEOS to Establish Joint Venture for Materials Discovery
New JV's universal atomistic simulator accelerates search for new materials
TOKYO – April 27, 2021 – Preferred Networks, Inc. (PFN) and ENEOS Corporation (ENEOS) have agreed to establish a joint venture that provides a high-speed universal atomistic simulator to accelerate discovery of new materials.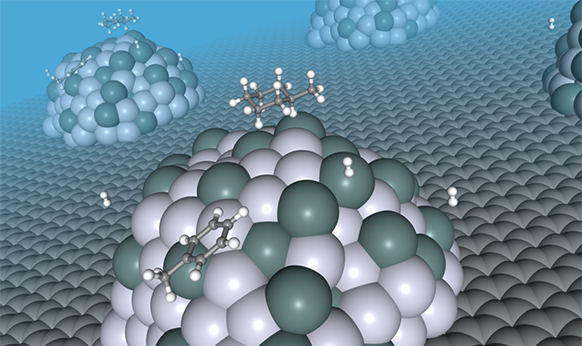 Example of a catalyst surface that is computable with the new atomistic simulator

Developed using the expertise of both companies, the atomistic simulator can quickly simulate properties of new materials at an atomic level and will be provided as a cloud-based service beginning in the summer of 2021. The joint venture is an outcome of the strategic partnership formed in 2019, under which PFN and ENEOS have planned to launch an innovative materials informatics business that takes advantage of artificial intelligence technologies.
PFN and ENEOS have incorporated a deep learning model into a conventional physical simulator, achieving the high versatility and simulation speed needed for materials discovery at a large scale. The model has been trained with a vast amount of atomic structure data generated by physical simulation on supercomputers, enabling the new simulator to compute a wide variety of materials at a speed tens of thousands of times faster than a conventional physical simulator.
By providing the universal atomistic simulator as a core component of materials informatics, PFN and ENEOS intend to accelerate development of innovative materials across various sectors. The two companies will also support the United Nations' Sustainable Development Goals, including Goal 9 ("Build resilient infrastructure, promote inclusive and sustainable industrialization and foster innovation"), through the new material informatics service.
The new joint venture,  whose name is to be determined, will be headed by PFN's COO Daisuke Okanohara and is scheduled to be established on June 1, 2021 in Tokyo, Japan. PFN will hold 51% of the joint venture and ENEOS will hold 49%.