Preventive Maintenance Feature of Injection Molding Machine Using AI (Deep Learning)
FANUC CORPORATION (hereinafter, FANUC) and Preferred Networks, Inc. (hereinafter, PFN) have jointly developed AI Backflow Monitor that performs preventive maintenance on FANUC's electric injection molding machine ROBOSHOT α-SiA series. This is the latest example of our joint initiative to apply deep learning to machine tools.
AI Backflow Monitor uses deep learning to evaluate and predict the wear state of ROBOSHOTs consumable parts (non-return valve) to let operators know before a part starts to malfunction. A conventional method requires that operators visually check waveform data for shape changes that indicate backflow of resin to assess the wear and estimate the replacement timing of the valve. The new feature utilizes the deep learning techniques to effectively analyze the waveform and digitize the wear amount, enabling it to notify operators of the best timing to replace the valve.
Additionally, AI Backflow Monitor takes advantage of its Edge Heavy feature to process data mainly on ROBOSHOT-LINKi, not in the cloud.
AI Backflow Monitor will be provided as an optional feature that can improve the operating rate of ROBOSHOT through preventive maintenance. (FANUC plans to begin taking orders in January next year.)
ROBOSHOT with this new feature will be exhibited at International Plastic Fair 2017, which will be held in Makuhari Messe from Oct. 24-28.
FANUC and PFN will continue to work together and make steady progress, step by step, towards realizing innovative and advanced manufacturing fields using AI.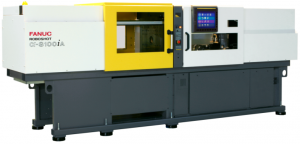 ROBOSHOT α-SiA series: http://www.fanuc.co.jp/en/product/roboshot/index.html
High-level system structure