Preferred Networks Begins Designing Mobile Manipulators for Mass Production
Field tests to be conducted for unmanned transport and disinfection including preventative measures against COVID-19
TOKYO – June 22, 2020 – Preferred Networks Inc. (PFN) has begun designing a mobile manipulator, a robotic manipulator arm mounted on a mobile platform, for mass production. In parallel, PFN plans to conduct field tests using its mobile manipulator prototype in real-world settings such as factories, laboratories, offices, hospitals and welfare facilities. The intended use includes unmanned transport and disinfection in environments where workers are lacking or human presence is undesired due to COVID-19 and other infection risks.
PFN's mobile manipulator has been selected as one of the projects to receive subsidies from Japan's Ministry of Economy, Trade and Industry under its 2020 program to support Japanese startups combining software and hardware to open up new markets. From June 2020 to February 2021, PFN will use the subsidy to design the mobile manipulator's hardware and perform field tests in various real-world settings.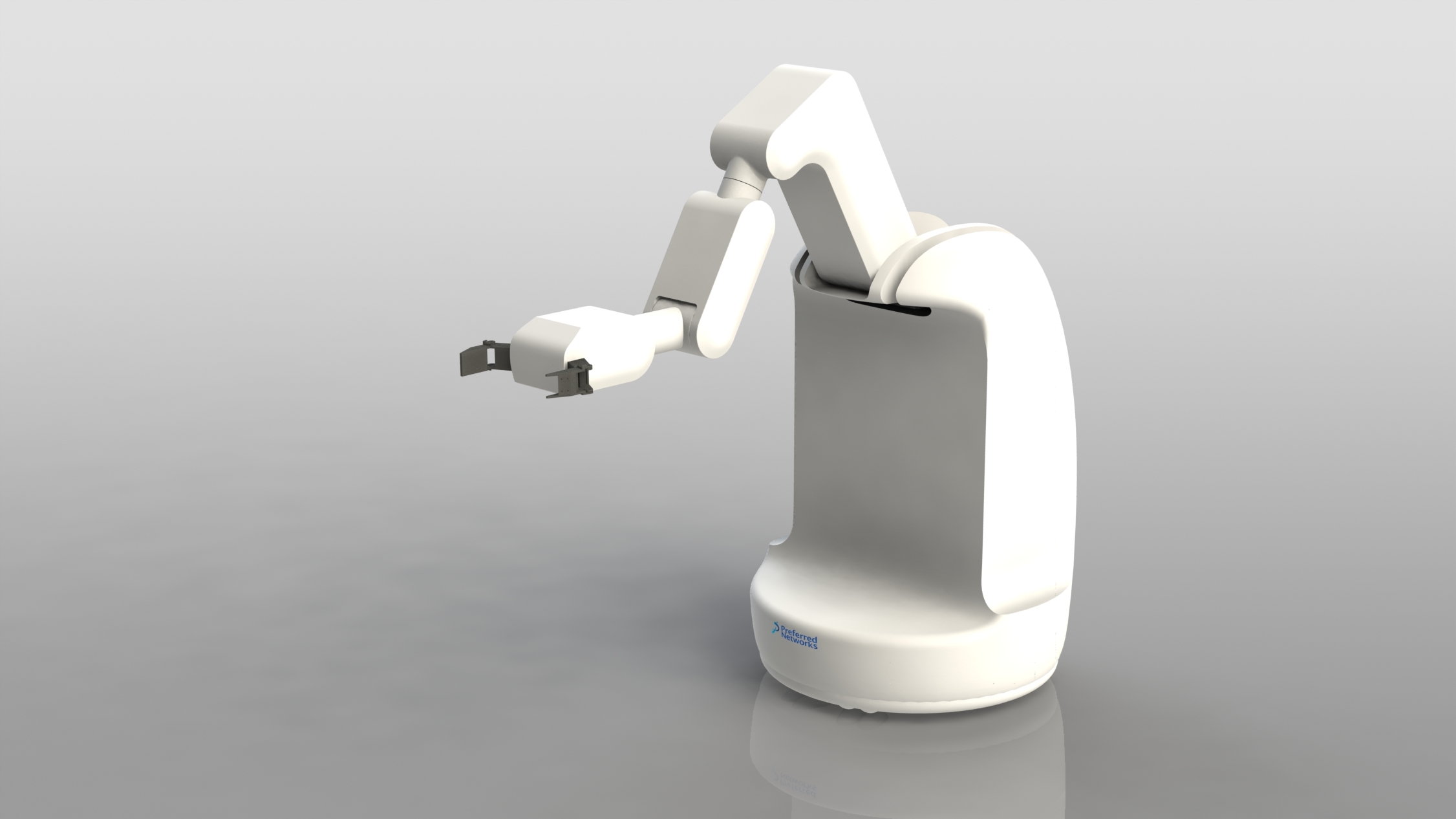 Concept rendering of PFN's mobile manipulator
PFN takes a vertically-integrated approach by developing the software, including the motor control layer that regulates physical interaction and safety, and designing the hardware, such as the arm, end effectors and mobile platform. By developing both hardware and software in-house, PFN can exclude unnecessary functions, minimize production costs, and enhance the product's safety and performance.
Since announcing its "Robots for Everyone" vision in 2018, PFN has devoted itself to developing robots that can be installed at a low cost in various environments and support humans with their everyday needs. PFN will continue combining hardware technologies with its original strength in software technologies, such as deep learning for object recognition and control, to create practical robots that adapt flexibly in varying real-world conditions.
PFN is looking for partners and facilities that can participate in the field tests in Japan. Inquiries and suggestions are accepted via the contact form:
https://forms.gle/Sx3k4oSn71gowuVE9