PFN Develops AI Drug Discovery Technology That Accelerates Initial Screening for Pharmaceutical Development
Joint research with Kyoto Pharmaceutical University discovers lead compounds for COVID-19 treatment
TOKYO – September 6, 2021 – Drawing on its deep learning expertise and large-scale computing resources, Preferred Networks, Inc. (PFN) has developed an AI drug discovery technology that accelerates lead compound discovery, a key component of the initial phase of drug development including candidate search, molecular design, modeling, and optimization. In a joint research project with Kyoto Pharmaceutical University (KPU), PFN used the new technology to design a group of compounds that showed inhibitory activity against the 3CL protease or main protease, an enzyme essential for viral replication of SARS-CoV-2.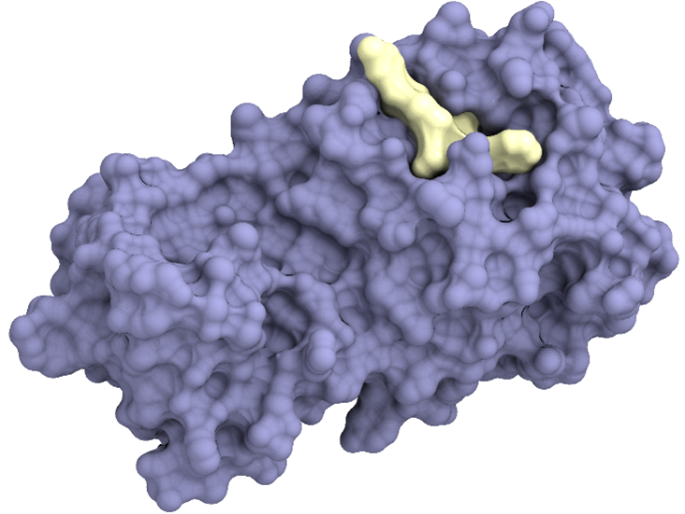 Example of a pharmaceutical agent (in yellow) binding to the main protease
of SARS-CoV-2 (in purple) to inhibit viral replication
Note: To protect intellectual properties, the agent shown in the figure above represents
a different compound from what PFN and KPU discovered in the joint research.
In the joint research, PFN and KPU sought to discover compounds with non-peptide structure as previous studies on the main protease inhibitors of COVID-19 are focused on peptide-like compounds that contain leucine or a similar structure. Non-peptide compounds can be effective for potential SARS-CoV-2 mutations. Among the multiple compounds suggested by the new AI drug discovery technology using PFN's supercomputer MN-2, PFN and KPU synthesized 13 compounds in the real world, of which seven showed inhibitory activity against the main protease of SARS-CoV-2 in biochemical experiments.
Going forward, PFN plans to make continuous improvement to the AI drug discovery technology while searching for partner companies.
Update (September 13, 2021)
Posted an entry in the PFN technology blog with additional technical details:
Discovery of SARS-CoV-2 protease inhibitors using AI drug discovery technology