Preferred Networks Uses Deep Learning to Help Kyoto Physicians Diagnose Lung Cancer from Chest X-Ray Images
Trials to assess effectiveness to reduce physicians' workload and oversight risks
TOKYO – October 12, 2020 – Preferred Networks, Inc. (PFN) has developed a deep learning-based chest X-ray image analysis tool to facilitate physicians in diagnosing lung cancer, with the support of Kyoto Prefecture, Kyoto Medical Association and Nobori Ltd., a Japanese provider of cloud-based medical information solutions. By the end of March 2021, the new tool will be introduced on a trial basis to prefecture-sponsored public lung cancer screening tests for Kyoto Prefecture residents to assess how it can reduce physicians' workload and medical oversight risks.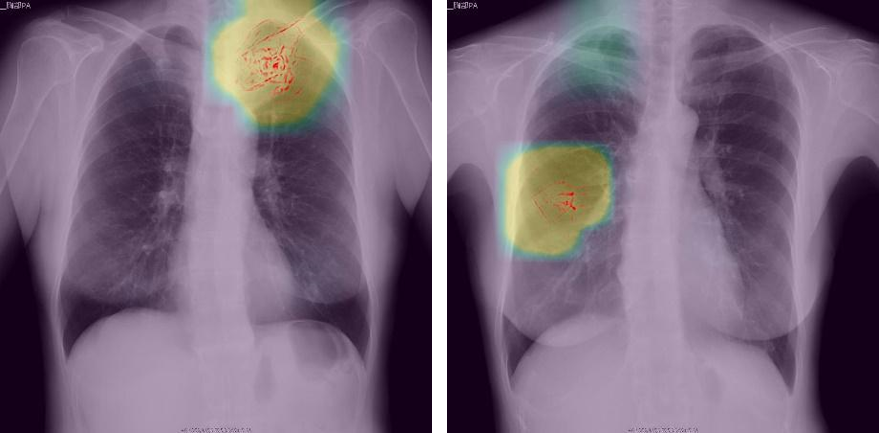 PFN's deep learning-based image analysis tool indicates chest x-ray abnormalities
(The images above may differ from the actual tool)
The diagnostic assistance tool uses a model based on PFN's unique deep learning algorithms and was trained with a large number of actual chest X-ray images paired with lung cancer diagnosis. The model analyzes the test takers' chest X-ray images and automatically indicates abnormalities that may represent lung cancer, which is expected to allow physicians to interpret them quickly and accurately. During the trial, two physicians will interpret each chest X-ray image as recommended by Japan's Ministry of Health, Labour and Welfare (MHLW) while they refer to the analysis results. The test data will be securely managed on NOBORI, Nobori's cloud-based platform that allows medical institutions to store and use anonymized medical information.
PFN demonstrated its medical image analysis technology when the company ranked sixth out of 1,499 teams from around the world at Kaggle RSNA Pneumonia Detection Challenge co-hosted by Kaggle and Radiological Society of North America in 2018, in which the teams competed on accuracy to detect potential pneumonia cases from chest X-ray images.
The shortage and workload of physicians who are able to interpret numerous X-ray images each day are known issues in Japan. Although X-ray interpretation requires extensive training and experience for physicians, it is still the most common method, compared to the more expensive and lengthier alternatives. According to the Japan's National Cancer Center statistics, lung cancer had the highest cancer mortality rate for males and second highest for females in 2018. The top cause of death in Japan in 2018 was cancer according to MHLW's data.