PFN Develops Deep Learning-Based Digital Asset Generation System for Creative Industries
Releases short movie produced with Polygon Pictures and King Records
TOKYO – March 10, 2021 – Preferred Networks, Inc. (PFN) has developed a new digital asset generation system for creative industries, with which users can easily generate character illustrations and highly detailed 3D models for use in animation, movies, games and advertisements. PFN plans to make the system available to external parties to support digital content production.
Product demo video with the character and background made from digital assets generated by the new system (YouTube)
The new digital asset generation system consists of two functions: character auto-generation and 3D model generation.
1. Character auto-generation
The function uses Crypko™, a PFN-developed character generation platform that can automatically generate character illustrations with user-specified face parts, expressions, hair color and other attributes.Crypko could previously generate only faces, but can now generate the upper half of the body in higher resolutions.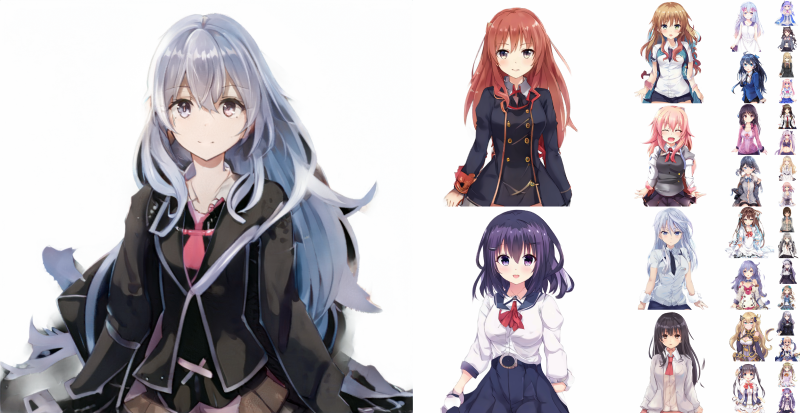 Characters auto-generated by Crypko
2. High-precision 3D model generation
With PFN's self-developed 3D scanner, users can easily generate highly detailed digital 3D models of real-world objects in a wide variety of materials and sizes. With about six hours of scanning, users can generate highly precise 3D models of more than 200 small objects in one day. The 3D models can be edited and copied using third-party software for use in movies, games and other forms of content.
| | |
| --- | --- |
| Photo of real-world objects | High-precision models scanned with 3D scanner |
| Rotated 3D models (low resolution) |  Mesh surface of 3D models |
As a demonstration of its digital asset generation system, PFN has produced a short video featuring a song by Japanese virtual singer HACHI (RK Music) and released it today. The protagonist in the video was designed based on a character auto-generated by Crypko, and the objects in the background were made from 3D-scanned real-life objects. The guitar appearing in the video was developed in collaboration with external artists for high-quality details and final touch.

Guitar and furniture graphics used in the short video
PFN's new digital asset generation system has been developed as part of the fourth batch of Japan Content Localization and Distribution (J-LOD) subsidy project under the fiscal year 2019 secondary supplementary budget of Japan's Ministry of Economy, Trade and Industry.
PFN plans to introduce new production methods applying the latest technologies to the creative industries and explore new forms of expressions and experiences.