PFN Adds Crypko Premium Plan for Commercial Use of Auto-Generated Character Artworks
TOKYO, August 25, 2022 – Preferred Networks, Inc. (PFN) today added the Premium Plan to Crypko™ (https://crypko.ai), PFN's deep learning-based platform that automatically generates anime-style character art. Unlike existing two plans, subscribers to the Premium Plan can use Crypko-generated character artworks for commercial purposes.
PFN launched the Premium Plan in response to user requests for commercial use of Crypko-generated artworks in games, YouTube videos and other media. Subscribers of the Premium Plan have a higher limit for the Crypko Point in-platform currency than the existing Freemium and Standard plans, and their CP increases by one point every minute.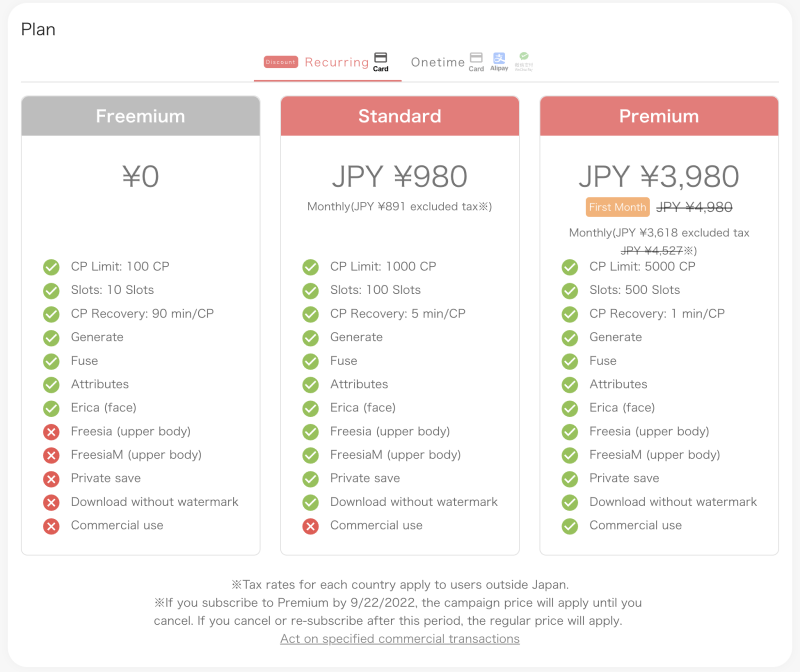 As a special initial offer, Premium Plan will be available at 3,980 yen per month (including tax) instead of the regular price at 4,980 yen (including tax).
PFN will continue leveraging the latest technologies to enable users to express their creative ideas even with limited time and skill for drawing.
About Crypko
Powered by deep learning-based generative adversarial networks (GAN), Crypko is a web platform that allows its users to generate anime-style characters with a similar quality as professionally-drawn artworks. Crypko users can consume their in-platform currency Crypko Point to generate and fuse character artworks, and edit their attributes to their liking. They can also make a library of their favorite characters made by other Crypko users as well as themselves. Since the April 2022 launch, over 80,000 users have registered on Crypko. Crypko currently supports payments from Japan, South Korea, Greater China and the United States for its paid plans.