PFN Launches Deep Learning-Based 3D Scanning Service
PFN 3D Scan faithfully replicates transparent, black and reflective objects;
Applicable to e-commerce, game production, metaverse, artifact preservation and more
TOKYO — June 20, 2022 — Preferred Networks, Inc. (PFN) today launched PFN 3D Scan, a 3D scanning service that digitizes a variety of real objects into high-quality 3D models, for companies located in Japan. Powered by PFN's unique deep learning-based technology, PFN 3D Scan can faithfully reconstruct the mesh, textures and materials of various real-life objects, including transparent, black and reflective objects that conventional technologies have had difficulties with. The 3D models provided through PFN 3D Scan can be used immediately for a range of purposes including e-commerce, game and video production, metaverse as well as preservation of cultural artifacts.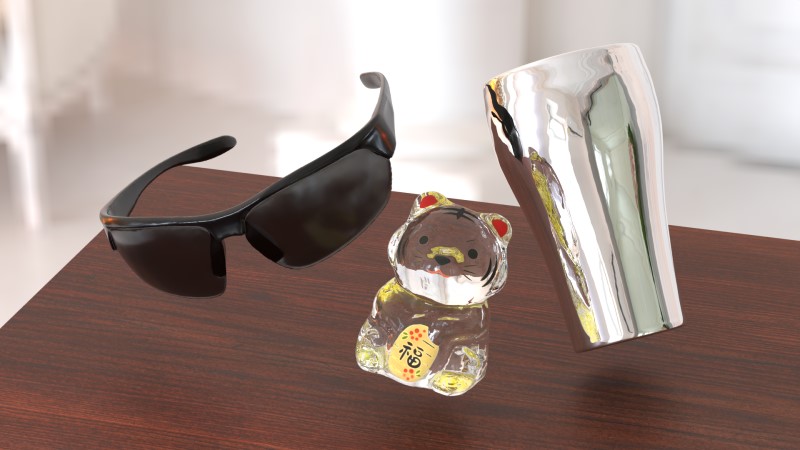 3D models made with PFN 3D Scan from real objects and placed in virtual space
(See section below to rotate and zoom the actual 3D models)
Many objects, especially transparent, black and reflective ones, still pose difficulties for conventional technologies such as structured-light 3D scanning and photogrammetry, forcing computer graphics specialists to build 3D models from scratch or spend a significant amount of time to  scan data from expensive scanners. By using PFN's deep learning-based technology and proprietary 3D scanning device, PFN 3D Scan can faithfully replicate appearances of real-life objects including transparent, black and reflective ones.
The service fee is 20,000 yen (excl. tax) per object and 3D models will be provided in glTF and FBX formats (USDZ, OBJ and STL are also supported) in five to ten days depending on the property of the objects. PFN also plans to provide them as Unity and Unreal Engine assets. 
PFN 3D Scan is PFN's latest effort to accomplish the company's vision to make the real world computable.
Examples of 3D models made with PFN 3D Scan (Click to rotate and zoom)
Black sunglasses


Glass figurine


Stainless steel tumbler


Plastic figurine
©︎ANYCOLOR, Inc.

Leather product
Provided by Tsuchiya Kaban Co., Ltd.

Historical artifact (replica)